People
who's behind the premier driver training destination in the Pacific Northwest
TODD HARRIS AND KRISTEN MOORE ARE PASSIONATE ABOUT THE WORLD OF AUTO RACING AND TEACHING ADVANCED SKILLS TO DRIVERS OF ALL LEVELS OF EXPERIENCE.
They have dedicated over 25 years building the Pro Drive Driving School into a premier driver training destination, while establishing the Pro Drive Racing Team as one of the winningest teams in the Sports Car Club of America. If you love driving, Pro Drive has a program for you.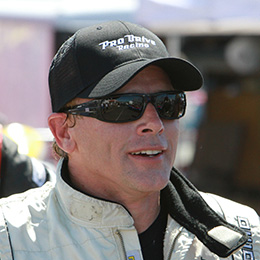 Todd harris
President
Todd is an SCCA National Champion race car driver. He has been winning races in all types of race cars for the past 25 years.
With more than 200 wins and multiple track records at tracks all across North America, Todd has combined his racing success with his love for teaching, to become the driving force behind Pro Drive.
When Todd is not behind-the-wheel of a race car, he is coaching drivers ranging from amateur to professional race car drivers and can be found on local television and radio stations offering insightful driving advice to motorists.
Todd is a graduate of Portland State University, an avid guitar player, and classic film buff.
He and his wife Jennifer have two sons, Calvin and Taylor.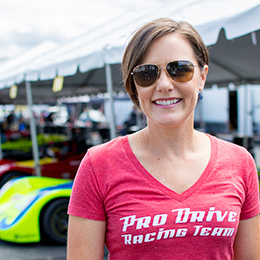 Kristen moore
vice president
Kristen leads the daily operations of Pro Drive since 1997.
Managing our website, scheduling all racing schools and SkidCar courses, as well as, coordinating hospitality for the Pro Drive Racing Team are just a few of her daily tasks.
With years of wisdom, and a passion for excellence, Kristen is committed to providing our customers an informative and positive experience.
Kristen is a graduate of Portland State University, who loves spending time outdoors with her family.
She and her husband Jimmy have a daughter, Nyla, and son Cameron.
Portland international raceway
PIR is a 1.97 mile permanent road course, located 3 miles north of downtown Portland, Oregon.
56 years

of sports car racing

1.97 miles / 3.17 km

distance with the chicane

268

total size in acres
Watch this short video to find out more about Portland International Raceway (history, location and its users).
---
Download Track Map .pdf
Live in your World, race in ours
Get serious about your driving aspirations and start your racing career with our team
Imagine your heart racing as you approach the starter stand with twenty other racers determined to win.
The green flag drops and you stand on the gas pedal speeding toward turn 1 in the best seat in the house!
If you have ever visualized this racing moment, now is the time to stop dreaming and start driving.
Pro Drive offers arrive-and-drive racing services in our race rentals and driver owned race cars. Are you the next member of the team?
Learn from the professionals
The Pro Drive Racing Team drivers are a varied group of individuals who turned their racing dreams into reality.
Find out more
Corporate customers
Here are some of our beloved clients
AT&T
Ad Life Paramedic Training School
American Red Cross
Ameriprise Financial
Association of General Contractors
Battleground Police Department
Brown & Kysar, Inc.
Bureau of Environmental Services
Bureau of Land Management
Bureau of Maintenance
Burlington Northern Railroad
Camas Fire Department
Chevron Lubricants
Chevron
Christian Electric
City of Beaverton Police Department
City of Gladstone
City of Gresham
City of Portland Water
City of Vancouver Police Department
Clackamas Community College
Climate Control
Colton Fire Department
Columbia Analytical Services
Columbia Waste Water Plant
Crestline Construction
Crown Royal
Department of Agriculture
Department of Environmental Quality
EDT Corp
Gresham Fire
Hancock Forest Management
Hercules
Hewlett Packard
Intel
Jaguar Land Rover NA
Jesuit Volunteer Corp
International Paper
Georgia Pacific
Tualatin Valley Fire and Rescue
Andersen Construction
US Fish and Wildlife
White Creek Wind
Earthly Gourmet
Delta Sand and Gravel
Knife River
NW Crane Services
Associated General Contractors
TAT Communications
Portland Parks Bureau
City of Lake Oswego Parks
Oregon Forest Resources Institute
Albany International
Ride Connection
Kaiser Permanente
Lake Oswego Fire Department
Lane County Sheriffs Department
Longview Fibre
Microsoft
Multnomah County Sheriffs Dept.
NW Hardwoods
Nalco Chemical
Nextel
Oliver & Thompson Inc.
Oregon Dept of Administrative Services
Oregon Dept of Corrections
Oregon Dept of Transportation
Oregon Health Division
Oregon Independent Telephone Association
Oregon Juvenile Corrections Academy
Oregon Liquor Control Commission
Oregon Lottery
Pacific Towncar
Penske Truck Rental
Port of Portland Police
Portland Brinckerhoff
Portland Community College
Portland Fire & Rescue
Portland General Electric
Portland Travel Lodge
Premia Corporation
Providence Home Services
Puget Sound Tire
Reynolds School District
Ron Tonkin Gran Turismo
SMART-City of Wilsonville
Siebel Systems
State of Oregon Dept. of General Services
State of Washington Counties Risk Pool
Toyota
Tri-Met
Tuality Medical Equipment and Supply
U.S. Forest Service
US West
Washington County
Weyerhaeuser
Willamette Falls Hospital
our partners & hotels
Partners and hotels which we recommend
PORTLAND INTERNATIONAL RACEWAY - I-5 EXIT 306-B
Best Western Inn At The Meadows
1215 N. Hayden Meadow Dr.
800-WESTERN (1.800.488.5544)

Motel 6
1125 N. Schmeer Rd.
1.800.466.8356 / 503.247.3700
Marine Drive - I-5 exit 307
Marriot Courtyard
1231 N. Anchor Way
1.800.321.2211 / 503.735.1818

Fairfield Inn
1200 N Anchor Way, Portland, OR 97217
503.286.6336
Jantzen Beach - I-5 exit 308
Doubletree Hotel Jantzen Beach
909 N. Hayden Island Dr.
1.800.222.8733 / 503.283.4466

Holiday Inn Express
2300 N. Hayden Island Dr.
1.800.465.4329 / 503.283.8000
Oxford Suites
12226 N. Jantzen Beach
1.800.548.7848 / 503.283.3030
TESTIMONIALS
What are our client's saying about Pro Drive's Programs
Thanks for a fun day at the track. Chris was a great instructor. Everything was professional with a great combination of safety and fun.
I want to give you guys a big thanks for the racing school a few weeks ago. You guys did a great job teaching me and my brother the spec racer ford. I just finished my first race and it was a blast. I started 14th out of 27 and finished 9th. Hope to get to race against you guys in the future. Thanks.
Kristen, Pro Drive should be cloned across the country. We have visited no less than 20 large and small facilities across the United States and a couple in Canada and you run as smooth of an operation as the best of them and much better than most. So on behalf of my group, thank you for everything!
Just wanted to pass on that my son, Cade Bennett, enjoyed the afternoon skid car class on Monday (as well as learned a lot!). We both thought that A.J. was an exceptional instructor. Got a blast out of his teaching style.
I just wanted to let you know that Greg had a blast. He texted me a few times during the day ... he said his teacher was very good and he loved letting his car loose. Funny, when I asked him what he wanted for his 60th birthday, he said "oh, a new drill would be good." Yesterday he went and got himself a new drill ... when I saw it, I said "aren't you glad I didn't get you a drill?" He said "YES" J thanks for giving him a great day.
That was great! AJ had a great temperament for Lizzie and I noticed right away that the things that make me worry about her driving were getting better. Thank you
Todd & Kristen - I just want to thank you two for making 2015 such a stellar year. I've only waited about 50 years to drive race cars and I cannot believe how fortunate I was to find you two to help move me towards that.
Your encouragement, your training, your patience, your help and those same attributes you foster in my team mates has really been beyond belief for me. I can't tell you how happy I am to be a part of the Pro Drive Racing Team. I am really looking forward to the 2016 racing season.
Hello Kristen,
As a follow up to the 3-Day Racing School I attended, I would like to thank you, Todd, the coaches, the mechanics, and track personnel for a "dreams-come-true" life experience. The professionalism, coordination, organization, knowledge, support, encouragement and respect shown and shared by the Pro Drive staff to myself and the rest of the class was top-notch. I thoroughly enjoyed myself, and I appreciate all the coaches' efforts in providing every student in the class with a thorough, fun and exciting way to learn how to drive a race car to the best of each one's ability. And finally, thank you, Kristen, for all your help with coordinating/cleaning our racing gear, helmets, doing all our lapping session times for each of us, and providing everyone with a wonderful selection of food for our lunches and snacks.......much appreciated!
A great day of "burning fuel" ... you guys are running an incredibly professional school
I totally enjoyed the class: the level of enthusiasm and commitment from all of you at Pro Drive was outstanding. No detail was overlooked in orchestrating our experience and your professionalism was always warmed with a human element. I'll try to be back as I'm still lapping in my head... Thanks so much!
Kristen and Todd - how do you keep making your program better each year? It was a fantastic day and I have to tell you that every single participant from the Salem group said that they had the best instructor ever! That speaks volumes about the two of you and how you run your program!!!
Again, thank you very much for your great hospitality, your amazing instructors and for your dedication to providing a fantastic day of learning at the track!!!
Just wanted to thank you again for an incredible 3 days! Far exceeded any expectations I may have had. What a professional and first class operation you have!
Obviously people are the key to success in any operation. The attention, compassion, professionalism, knowledge and commitment that your entire staff takes towards the students and entire program is truly exemplary.
Kristen - My boys had a great time and learned a lot. I've recommended you to so many people and parents who really should take advantage of the class for the safety of all of us! J Those boys drive from Eugene to Bend all the time so I feel much better now that they have completed the course. Thank you again for your patience in scheduling.
Thanks, Kristen. AJ was INCREDIBLE. I want to send my partner (who's a paramedic) to train with AJ for his Christmas present. He was that good. I learned a lot and feel like I'll be a much better driver, especially in wet and icy conditions. Many thanks for having this available to the public!
Patrick and I would like to thank you for a great weekend of racing. Beautiful weather, family-friendly people, and exemplary team coordination...what a fantastic blend!
Please know that we appreciate your hard work and continued efforts...your Team Pro Drive/Flat Out combo is a race winning recipe to be sure. Just awesome.
AWESOME class we took today!!! AJ was outstanding. Learned a ton and best part is I won't worry so much about my 16 yr old son driving this winter... (note I said NOT so much... still worry J ) .. thanks all!
A few weeks ago I had the pleasure of using a gift from my wife for the defensive driving class in Portland. Chris was our instructor. He did the best job ever... I have never had a better demonstration on the engineering and mechanics of a vehicle's systems and what actually happens when you turn, and brake. Then, when we went from the classroom to the actual vehicle and it even made more sense. His gentle manner and expertise were so helpful and made so much sense. Bravo to Chris. I learned a lot and it truly has had an influence on my driving.
I took the Pro Drive skid course yesterday with my siblings instructed by Chris. I just wanted to leave you with some feedback from the course. I thoroughly enjoyed the course, because driving has always been a bit scary for me because of all the things that can go wrong. Not only did this course better my confidence with skidding and losing control, it also helped me practice being a more aware and cautious driver. I learned some very counter intuitive techniques that I know will help me throughout my lifetime of driving. I wanted to leave a very strong positive feedback about our instructor Chris, as well. He was very nice, very informative, and really helped me feel comfortable and relaxed. He was quick to tell me what went wrong with the car when I would skid out, and how to correct it for next time. He did not make me feel stupid or like a bad driver, in fact if anything he made me a more confident driver.
Thank you so much for the useful and fun driving course experience!
I was very pleased with the way the course was delivered, in a safe and professional atmosphere. Jim (skid class) and Dan (high performance) were both very knowledgeable and helpful in getting me to reach the goals I had set for myself to achieve in these classes. Many thanks to them both and to all of the staff that made this a very memorable event. I still have a great deal more to learn and can't wait to come back.....Thank You!!! I look forward to seeing you again.